Literature, Languages, & Arts
---
♣ Chinese Books and Tracts Used in Korea without Translation, 1880-1900
♣ Chinese Tracts Translated and Published in Korean, 1885-96
Allen, Horace N. Korean Tales: Being a Collection of Stories Translated from the Korean Folk Lore. New York: G. P. Putnam's Sons, 1899.
——-. Things Korean: A Collection of Sketches and Anecdotes, Missionary and Diplomatic. New York: F. H. Revell, 1908.
Courant, Maurice. Bibliographie coréene: tableau litteraire de la Corée. 2 vols. Paris: E. Leroux, 1894 & 1896.

Gale, James S. A Korean-English Dictionary. Yokohama: Kelly & Walsh, 1897.
——–. Korean Sketches. New York: F. H. Revell, 1898.
——–. The Vanguard, a Tale of Korea. New York: F. H. Revell, 1904.

Griffis, Wm. Elliot. "Korea and the Koreans: In the Mirror of Their Language and History." Journal of the American Geographical Society of New York, Vol. 27, No. 1 (1895): 1-20.
Hulbert, Homer B.
Medhust, Walter Henry. 朝鮮偉國字彙. Translation of a comparative vocabulary of the Chinese, Corean, and Japanese languages: Batavia: Printed at the Parapattan Press, 1835.
Noble, William Arthur. Ewa: A Tale of Korea. New York: Young People's Missionary Movement of the United States and Canada, 1906.
Reynolds, William D. "How We Translated the Bible into Korean," Union Seminary Magazine 22 (1910-11), 292-303.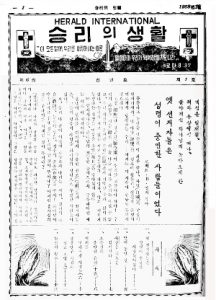 Rice, Robert Frankiln. 승리의 생활 ( International Herald: Weekly), Taegu: 1954-67.
Ross, John. The Corean Primer: Being Lessons in Corean on All Ordinary Subjects, Transliterated on the Principles of the Mandarin Primer. Shanghai: American Presbyterian Mission Press, 1877.
Scott, James. A Corean manual or Phrase Book, with introductory grammar. Seoul, English Church Mission Press, 1893.
Underwood, Horace G. An Introduction to the Korean Spoken Language. Yokohama: Seishi Bunsha, 1890.
——–. An introduction to the Korean spoken language. 2nd ed. Seoul: Religious Tract Society, 1914.
Vinton, C. C. "Literary Department," Korean Repository 3 (Jan. 1896): 38-39.
Wagner, Ellasue C. Kumokie: A Bride of Old Korea. Nashville: Publishing House of MECS, 1922. First 25 pages.
Wylie, Alexander. Memorials of Protestant Missionaries. Shanghai: American Presbyterian Mission Press, 1867.